Nothing beats good food. Good food and talking about it, especially while eating. You can do exactly that at these restaurants in and around Innsbruck.
The Best Restaurants in Innsbruck
I don't mind spending money on good food, but I'd rather not waste it on cheap ingredients, poor service, and unappealing plates. Innsbruck, given its size, isn't the easiest place to find great restaurants, and tastes vary, of course. Nevertheless, I can recommend these restaurants for your trip to Innsbruck.
Tyrolean Cuisine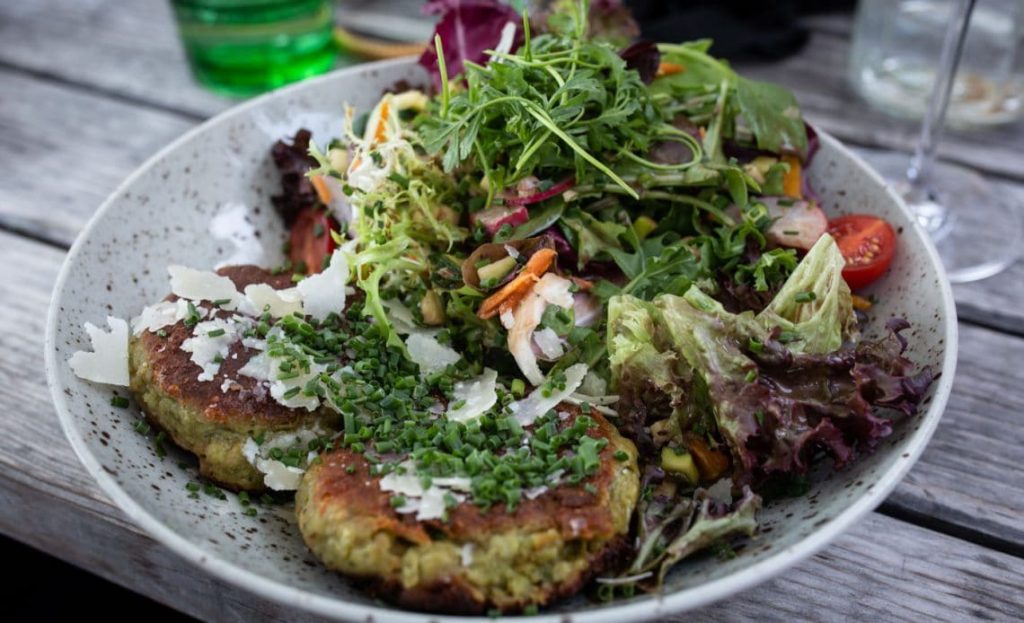 Weißes Rössl
Kiebachgasse 8 | Looking for traditional Tyrolean cuisine? Then I recommend the cozy wooden dining room at "Rössl" (it's best to make a reservation). My menu suggestion is the Zwiebelrostbraten (onion roast beef) for €28.50. Vegetarians can try the Tiroler Trio (dumplings + Schlutzkrapfen), Schlutzkrapfen (ravioli), or Kässpätzle (cheese spaetzle). During summer, opt for the shaded terrace in the courtyard instead of the cozy dining room. By the way, they also offer rooms here, and there's an unassuming bar downstairs… what more could you ask for?
Zomm im Meilerhof
Located outside the city, but worth the journey: Zomm im Meilerhof is a culinary gem for the region, and the short trip over Zirler Berg (or by train!) is worth it.
The Best Pizzerias in Innsbruck
Pizzerias in Innsbruck deserve a separate article, which is still in the works. Here's a sneak peek:
La Trattoria am Sparkassenplatz
Sparkassenplatz | It's safe to say that without Pizzaiolo Luca, the place wouldn't be what it is. This is, by far, the best pizzeria in town! It could be due to the generally friendly atmosphere or simply the perfectly crispy, airy pizza crust. You must try the pizza here, and they also offer Italian wines, Aperol Spritz, or Crodino… delightful. Reservations are a must!
Trattoria Due Sicilie
Höttingergasse | Innsbruck is so close to Italy that you can find excellent Italian cuisine here. For a long time, my favorite pizza in Innnsbruck was at Due Sicile in Höttingergasse. Since 2017, they have also opened a branch at Die Bögen (A Casa) and one at the Markthalle (La Piccola), both offering wonderful outdoor seating in summer, although the Markthalle has a better view. It seems they have split internally now, but as a guest, it doesn't matter much: the pizza dough tastes slightly different everywhere!
Die Pizzerei
Another recommendation for Italian food, especially pizza, is Die Pizzerei at Bozner Platz. Unfortunately, the service can be inconsistent, but the pizzas are consistently good. In the evening, it's better to make a reservation! My recommendation: a wonderful glass of Aperol Spritz and a Pizza Rimini Rimini with Prosciutto crudo, Mascarpone, and Arugula. Or the fantastic creation "Flame" with buffalo mozzarella, red shrimp, onion, parsley, and raw tuna. Reservations work great, even for last-minute bookings, through their website!
CasoinN da Giorgio
Good Italian cuisine in a wonderful atmosphere. This small restaurant next to the Ferdinandeum Landesmuseum is a well-hidden gem. Since there aren't many cozy tables, make sure to reserve in advance, although the opening hours may change frequently. Until recently, there were two time slots in the evening, but now you can only reserve for 6 people. This is available on Wednesday, Thursday, Friday, and Saturday evenings. The best way to ensure a reservation is to call: +43 512 319066.
Vegetarian & Vegan Food in Innsbruck
Die Vitrine
Die Vitrine is a super small, well-hidden shop near the Triumphpforte that serves really good sandwiches and hand-cut fries.
Olive
At Am Wiltener Platzl | Vegetarian food, a spacious place, and good wines. Jakob and his team cook well, and you can taste the freshness of the ingredients. My recommendation: definitely try their seasonally changing vegan burgers!
Green Flamingo
Fast food, but vegan, please? Then this is the place to go. Even as a non-vegan, it tastes great, though I wish the fries were less greasy and a bit crispier. Their menu offers popular burgers, cauliflower wings, Beyond Meat hotdog, lasagna, and quesadilla – all made with vegan ingredients, of course.
Lunch & Lunch Menus in Innsbruck
My absolute non-independent recommendation: Futterkutter No. 1 at Franziskanerplatz – or Futterkutter No. 2, also in the inner courtyard of the old post office/MCI Maximilianstrasse 2 for a few years now. Georg and Martin serve delicious soups, stews, and salads from around the world from their Dutch cargo bike. Freshly cooked, healthy, and served in glass containers, completely plastic-free. It's quick and perfect for enjoying on the spot or taking away. In 2020, Futterkutter was rightfully awarded as the best street food in Tyrol by Falstaff.
Tastes good, does good. You can find the current menu on Futterkutter's Instagram.
In Innsbruck, many restaurants offer good deals for lunch menus. For example, the Japanese restaurant Kai (Blasius-Hueber-Str. 15), the lunch menus at the Piano Bar in the Old Town (Herzog-Friedrich-Straße 5, with a small garden), and Kostbar at Sparkassenplatz. The cheese sandwich with sourdough bread and kimchi at Cafe Momo at the Wagner'sche Bookstore is also a hot tip for takeaway (available in the afternoon from 2:00 pm!).
Asian Restaurants in Innsbruck
Momoness in Anichstrasse 10. Here, you can find Nepalese momos with vegetables and meat, in partnership with Sensei Sushi. Unlike Tibetan cheese momos, these come with plenty of sauce that tastes really good. They also offer takeout, and you can pre-order online for pickup.
The only Korean restaurant in Innsbruck is Miso in Seilergasse. Reservations are now possible by phone: +43 664 923 3209. Although the restaurant is perfect for a date night with its 2-seater tables, people don't stay long here. So, the chances of getting a table (for two) spontaneously are usually pretty good if you're patient. The menu is short, but the dishes are delicious: try Bulgogi, Bimipap, and glass noodle salad. They also serve Kimchi, either as a small taste or a substantial side dish.
Since I'm not particularly fond of the Asian cuisine offering in Innsbruck, I don't have any other recommendations at the moment.
Mexican Food in Innsbruck
…doesn't really exist, but Machete is still worth recommending!
Machete Burrito Kartell, Anichstrasse 29 | A hipster hangout: three guys recognized a gap in the market and filled it. "Machete" offers tasty bottled beer, cool interior design, and burritos with customizable fillings. While they might not be entirely authentic Mexican, they taste really good. They now only serve pea mole instead of guacamole and offer plant-based chicken as an alternative! Orders are placed with slips that you fill out at the table and hand in. It has been a great meeting point for a cozy start to the weekend for years. It's usually quite crowded in the evenings, and on warm days, you can sit on the terrace outside. They don't take reservations, but take-away works quickly.
The Best Burger in Innsbruck
Bekos West
Craving a really good burger? Bekos West (Egger-Lienz-Straße 57) may not impress with its interior charm, but they serve excellent burgers right at the entrance to Innsbruck West. Try their JBB – Chili & Cheese burger – it's made with Irish beef instead of local beef, but the taste is fantastic. They also have covered outdoor seating available now.
The Best Kebab in Innsbruck
Destan Kebab
On the hunt for the best kebab in Innsbruck? That's probably just as much of a contentious issue as the best burger. My recommendation is the kebab sandwich with homemade bread at Destan Kebab (Innstraße 49). You can't go wrong with that, unless you're vegetarian – then you can try the falafel.
The Best Cafes in Innsbruck
There are plenty of nice cafes in Innsbruck, some traditional and cozy, while others are hip and modern. Here are some places you'll enjoy:
Cafe Central
Gilmstraße 5, Not just Viennese people feel at home here. This classic coffeehouse is in a great location, has a beautiful terrace, and serves good food as well.
Haepinest
Innstraße 2, The new cafe under the arcades isn't just stylishly decorated; they also offer great coffee and small dishes. Very inviting and cozy!
La Pausa
Kiebachgasse. Get an Italian Cappuccino like nowhere else!
Brunch and Breakfast in Innsbruck
For a good breakfast, check out these places:
Breakfast Club – where the name says it all
Moustache – for Sunday brunch, arrive early, or the buffet will be empty!
Le Murge – do as the Italians do and enjoy a Cappuccino with Cornetti at Wiltener Platzl in the sun.
Sunday brunch at Nala
Brunch at Namsa
If you prefer a heartier breakfast, you can also find breakfast at the Markthalle or at the farmer's market in Mühlau (Müßigang family: Josef Schraffl Straße 21, 0512 267265)!
My personal breakfast recommendation: a trip to Rangger Köpfel to Rosskogelhütte. The mountain breakfast (about 45-60 minutes walk on the forest road to the hut from Stiglreith) costs €19 and includes two drinks – a perfect start to the day, with a view of Innsbruck!